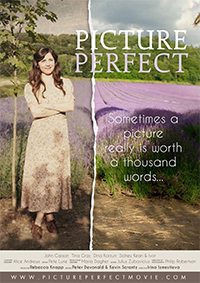 Grumpy pensioner David learns the transcendence of love when he buys an antique picture from a car boot sale... See short synopsis »
Director - Irina Izmestieva, Writer - Peter Devonald and Kevin Scrantz, Producer - Rebecca Knapp, Composer - Christoffer Sandberg.
Picture Perfect enjoyed a successful festival run where it had won several awards including Best Short Film at following film festivals – the 47th WorldFest Houston International Film Festival, Marbella International Film Festival, the Cyprus International Film Festival, the Corinthian Peloponnesian International Film Festival, Mestre Film Festival;
Best Director at the Kharkov Lilac International Film Festival and was nominated for Best Short Film at the London Independent Film Festival, the Suffolk International Film Festival (UK) and the Carmarthen Bay Film festival in Wales.
The film has also been invited to various international film festivals including the 7islands Film Festival (India), American Online Film Awards, South West London Film Festival, Reel Islington Film Festival (UK), the Electric Lantern Film festival (UK) and the Red Carpet Film festival (UK). It was also screened at the Venice Film Festival in 2013.
Photos
Film
Press
Reviews of Irina Izmestieva's last film Picture Perfect:
"An appealing and charming thirty minute short… A handsomely shot and well constructed film, with a romantic edge to the proceedings, Picture Perfect is a nicely understated piece about age, regret, forgiveness and longing to change the past – themes which everyone can relate to. It will certainly keep you intrigued... There are a few moments of light humour... Picture Perfect is a skilfully made, subtle and quietly entertaining film that is a worthy prelude to Irina Izmestieva's feature debut."
David Ollerton - The London Film Review
"Irina Izmestieva's "Picture Perfect" is a powerful and touching story of separation, affection, tenderness and absolution… The film's reaction maybe characterised in two words: "More! More!!" We don't need to wish Irina luck – only to continue in the same vein and perhaps with two-hour-long film next time."
Nikita Andreevich Kosmin-Kolesnikov - Kommersant UK
"Arguably one of the best films of the evening was 'Picture Perfect' directed by Irina Izmestieva and produced by Rebecca Knapp. The film was expertly shot and edited and told a brilliant love story of an older generation, which goes against the dominant ideologies of teen love stories in modern blockbusters."
Tristan Noone - Journalist
"Picture Perfect was a very well put together short indeed, starting out as a seemingly simple love story, the narrative has a very interesting and well handled supernatural twist in it's tail. Fantastically shot, acted and engaging throughout, this comes highly recommended and should be prove to an excellent calling card for director Irina Izmestieva. Check back soon for a more in depth review of this excellent short and be sure to watch the trailer below."
Paul Anderson – Strangers in a Cinema
Script Report
"I found the script surprisingly moving and poignant. The characterisations are very vivid and the dialogue is naturalistic and effective. The story is well structured, and shows a gradual change in David as the picture softens his character before completely absorbing him. The script is very well written and I very much liked the contrast between the grim, sour existence David lives and the romantic, idealised vision in the painting."
- UK Film Council Midlands script report
Behind the scenes
You can find a more information on our News page.