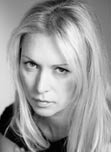 Irina Izmestieva was born in former Soviet Union. She graduated with a degree in Systems Engineering from Dnepropetrovsk State University. Prior to relocating from Moscow to London she gained a diploma in television and worked for three and a half years for Russia's TDK Channel, presenting over 220 episodes of the documentary series Traces of History.
Irina's growing passion for cinema led her to embark on a diploma in filmmaking at the London Film Academy, where she directed several short films (Hotel Narcissus, Sorpresa, Man 2 Man) and worked as a producer on The Wall.
Her film, Tourniquet, tells the story of a menage à quatre in an upper-class English mansion. Tourniquet won the audience award at the Riverside Studios screening, premiered at the East End Film Festival (London) and has been selected for Rome Independent Film Festival and 28 Festival de Cine Bogota. The London Film Academy chose to screen it at the Berlinale and Cannes 2011.
In 2011 Irina completed Writer-Director Diploma Course at LFA.
Irina's most recent film Picture Perfect is about age, regret, forgiveness and longing to change the past. It was shot in June 2012 by her newly established company IZM Productions.
Picture Perfect enjoyed a successful festival run where it had won several awards including Best Short Film at following film festivals – the 47th WorldFest Houston International Film Festival, Marbella International Film Festival, the Cyprus International Film Festival, the Corinthian Peloponnesian International Film Festival, Mestre Film Festival; Best Director at the Kharkov Lilac International Film Festival and was nominated for Best Short Film at the London Independent Film Festival, the Suffolk International Film Festival (UK) and the Carmarthen Bay Film festival in Wales. The film has also been invited to various international film festivals including the 7islands Film Festival (India), American Online Film Awards, South West London Film Festival, Cosy Cinema Screening (UK), Reel Islington Film Festival (UK), the Electric Lantern Film festival (UK) and the Red Carpet Film festival (UK). It was also screened at the Venice Film Festival in 2013.
Irina is developing her feature film debut Unconditional (Taboo), a controversial and thought provoking film: When Kate discovers she is adopted she yearns to uncover her identity, on her journey to discover the truth she falls in love with her soul mate Daniel. But will this love destroy they family she already has?
www.unconditional-themovie.co.uk
She is also developing her second feature film The Last Anniversary. The screenplay is being written by Edward Windus.
In 2011 IZM Productions presented a pioneering and technologically innovative, moving-image artwork of the Christ Nativity created by Martha Fienees in partnership with Covent Garden London.