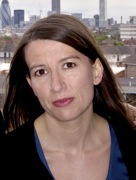 Rebecca is an award-winning producer who has worked in film and television productionon programmes ranging from drama to documentary to entertainment for over ten years,working across Europe, Africa, Canada and the USA.
She has also worked as a line producer/production manager of television drama,documentaries and multi-million dollar budget feature films. Amongst these projects arethe feature films Solid Air (May Miles Thomas's follow up to her critically acclaimed One LifeStand), Frozen (starring Shirley Henderson (Bridget Jones's Diary and Harry Potter), RoshanSeth (Indiana Jones & The Temple of Doom and Gandhi) and Hidden Flaws (directed byAcademy Award nominee Paula Van der Oest).
After graduating with an honours Law degree from Edinburgh University she produced herfirst short film entitled Smashing. She then went on to produce a series of shorts raisingfinance from the likes of the UK Film Council, Film Four, the BBC, Scottish Media Group andCarlton Television. These shorts have garnered between them three BAFTA nominationsand twenty-four international film awards; and featuring such British talent as Kevin McKidd(Trainspotting, Grey's Anatomy & Rome), Laura Fraser (A Knight's Tale), Helen McCroy (TheQueen & Harry Potter) and Tony Curran (Underworld 2 & Red Road).
Whilst working at Framework Entertainment Rebecca associate-produced Britain'sfirst urban black gangster movie – Rollin with the Nines (International Sales - AmericanWorldwide Pictures). As Head of Business and Legal Affairs/Producer and involved in thesetting up of three feature film productions, the horror films Heartstoppers and Warriorsof Terra, (with the production/sales company Peace Arch) and the action-adventure filmPrisoners of the Sun directed by the Oscar-winning Roger Christian. Framework had ajoint venture with the sales agency Marie Vine International, and she gained hands-onexperience of selling films at the Cannes Film Festival.
As producer of the teen comedy Popcorn backed by Screen East and the UK Film Council'sLottery Fund, written and directed by Darren Paul Fisher, which was released theatrically inthe UK. International sales are being handled by Moviehouse Entertainment, who has soldit to over ten countries worldwide. It was nominated as Best Picture at the Creative EastAwards.
Rebecca has also run the UK film distribution companies Spark Pictures and Route OneReleasing where she structured and managed the release of several films with £100,000'sworth of P&A, which included the feature Clubbed that reached the top five at HMV (theUK's premier DVD retailer).
She was integral in launching the UK based youth entertainment channel Rapture TelevisionPLC, as well as Director of Programming/Commercial Director for two years, executive-producing over fifty hours of programming. These included the shows Gamers, Groove TVand That Film Show; featuring interviews with 50 Cent, Mark Ronson, Shaggy, Public Enemy,Tom Cruise, Sandra Bullock, Bruce Willis, Jessica Alba, Jeffrey Katzenberg and Keanu Reeves.
She has participated in the prestigious Inside Pictures course for production executives, runby Qwerty Films/CASS Business School and ACE producers' course.